Our team is a diverse blend of talents, expertise, and perspectives, coming together to create something extraordinary. Each member brings unique skills, passion and dedication, making our collective strength truly exceptional.
Assistant Director of Climate and Energy Resilience for the Regenerative Recovery Coalition
Jane is passionate about solving issues that intersect between people and the environment. Jane received a bachelor's degree in Environmental Studies from University of Northern Colorado, followed by a master's degree in the Climate Change and Society program at North Carolina State University. After college, Jane served in the Resource Assistance for Rural Environments AmeriCorps program, supporting economic development in rural Oregon and Washington. She has seen the impacts of a changing climate from coast to coast and aims to foster more resilient and equitable communities through her work. In her free time you will most likely find her reading, listening to live music or exploring the outdoors with her husky in tow.
The Alliance Center Coordinator
Born and raised in Minnesota, the land of 10,000 lakes, Madalyn has had a passion for the environment since early childhood, pushing her to participate in many environmental justice groups through school and initiating her drive for environmental activism. As a recent graduate of Northern Arizona University with a bachelor's in Psychology and a minor in Sociology, Madalyn is inspired to use intersectional tools to create a positive impact on the climate crisis. As the Alliance Center Coordinator, Madalyn has taken an enthusiastic approach to community programming and daily operations. Prioritizing healing, equity and regeneration, Madalyn is excited to work alongside colleagues who also care about serving their community. In her free time, you'll find Madalyn camping or in a museum!
Regenerative Recovery Coalition Director
Jolie is a passionate leader dedicated to serving her community and brings over a decade of community building and advocacy leadership experience to the Coalition. In 2021, Jolie served as Vice Chair for the Colorado Independent Congressional Redistricting Commission. She travelled all over the state, hearing from Coloradans and tirelessly working to amplify the voices of the marginalized. This commitment to elevating the voices and needs of her community is something Jolie is excited to continue in her role as Coalition Director. Most recently, Jolie served as the Executive Director of the Washington Street Community Center. She worked to unite the neighbors and neighborhoods of South-Central Denver, cultivating an intergenerational gathering place for the community.

When not working, Jolie can be found (or better not found) enjoying the unparalleled beauty of our natural world: hiking, backpacking and camping in those magical places that still exist outside the reach of cellular reception.
Ryan is a strategic thinker with an iterative and action-centered approach to solving problems. He grew up in Fort Collins, CO and left to study liberal arts at St. Olaf College in Minnesota. He graduated with a degree in political science, returning to start his career working as a case manager for veterans experiencing homelessness. He then left to serve for a year in Rwanda via the Young Adults in Global Mission program through the ELCA, also working with a development NGO there. When he returned, he worked in construction, fundraising and most recently the State of Colorado where he partnered with businesses and community organizations to improve disability inclusion within the business landscape of Colorado. You can usually find Ryan involved with one of his many hobbies-reading, painting, dancing, cycling, backpacking, traveling and more.
An avid adventurer, Elizabeth is from Austin, Texas but has lived and traveled in multiple countries across five different continents. She graduated with her bachelor's degree from the University of Chicago, where she majored in Environmental and Urban Studies and minored in Creative Writing. During college, Elizabeth spent a summer traveling all over the Rocky Mountains with a conservation corps, which cemented her desire to pursue a career in sustainability. Now, with The Alliance, Elizabeth is grateful to combine her love for storytelling and design with her passion for the environment. In her free time, Elizabeth likes to try new vegan restaurants, study foreign languages, write poetry, care for her houseplants and plan her next adventure.
Mary holds a BA in Sustainability Studies from The Evergreen State College and AAS in Building Construction Technology: Design/Build Remodel from Portland Community College. In addition to her formal education, she has hands-on experience working in the residential building world. From pouring concrete to framing walls to nailing shingles on roofs—she has done it all! Her time swinging a hammer as a general laborer led her to complete further training related to PV solar, high performance building methods and leadership in the trades. She prides herself in taking a whole systems approach when it comes to buildings and seeks to share this knowledge with others. Mary grew up in the mountains of Conifer, Colorado. In her free time, she enjoys volunteering for historic preservation projects, playing the banjo and building her backyard homestead.
Britney's career started in Texas in the electrical construction industry as a project coordinator, where she was able to expand her knowledge in everyday operations best practice, project management and employee management. These experiences allowed her to find opportunities in Denver, Colorado during the pandemic. After relocating, she found herself wanting to work for an organization with a greater cause—this is when her journey with the Alliance began. When Britney is not working with the team to live out their mission, vision and values you can find her enjoying Denver's many city parks with her dog Clutch, rock climbing or enjoying a craft beer at a brewery.
Growing up in Colorado and spending countless hours enjoying the outdoors, Riley's passion for the environment started at a young age. They started working in community organizing over six years ago, getting involved with the Denver Climate Movement and local environmental justice issues. Riley previously worked for 350 Colorado as the Northern Colorado Coordinator, building a grassroots environmental movement and advocating for a just transition. Now a graduate of Colorado State University, Riley holds a BS in Ecosystem Science and Sustainability and brings their knowledge and passion of event planning, community building and sustainability to the Events Manager position. When not curled up with a book, Riley can be found figure skating at the local ice rink or outside, likely tackling another Colorado 14er.
Director of Communications and Marketing
A storyteller at heart, Aly loves channeling her passion for equity and sustainability into creative, audience-centered marketing campaigns. Her love of all the ways people come together to make change led her to nonprofit work after starting her career in higher education communications. A transplant from the Midwest, Aly graduated from The University of Iowa with a degree in Communication Studies and Journalism. When she's not working, you'll find her secondhand shopping, in a barre or yoga studio or enjoying nature with her two dogs.
The Alliance Center Director
Mariah has called Colorado home for most of her life and loves working to improve this incredible state. She spends each day supporting the work of our talented tenant community and making the Alliance Center the most welcoming, energy-efficient building in Denver. She is a problem-solver who loves thinking about the most efficient ways to get things done and is always looking for ways to improve the systems we use. She completed her undergraduate studies at the University of Denver and has been working in the nonprofit sector ever since. In her downtime, Mariah enjoys going to the movies, drinking whiskey and going on long walks with her two rescue pups.
Brenna was raised in Telluride, Colorado, where a deep love of and respect for nature and community were instilled. She spent over ten years developing sustainability programs for some of the world's leading hotel brands in Hawaii, Texas, New York and Colorado. Brenna made an intentional career shift to join the Alliance in 2015 and was promoted to Executive Director in 2018. She has led the organization through a regenerative evolution, inside and out. As a pragmatic visionary she leads with a business mind and a nonprofit heart to drive systems change for a thriving planet. She received her undergraduate degree from the University of Hawaii, where she created an interdisciplinary program (business and environmental sciences) before CSR was a thing. She is a Certified Fundraising Professional through Indiana School of Philanthropy. Brenna was named one of the top 25 Most Influential Young Professionals (2015) and received the City of Denver's Community Builder Award (2017).
Keeley's academic and professional focus has been the alleviation of social and economic inequality. Stepping into this role at the Alliance Center feels like a natural extension of her social justice work as it intersects with environmental issues. Keeley did her undergraduate studies at Pomona College, earned an MA at the School of Social Justice, University College Dublin and a PhD in Political Science at CU Boulder. She's worked in social good organizations for nearly 15 years writing grants and managing research and evaluation projects. In her free time, you'll find Keeley skiing, hiking, camping and otherwise exploring Colorado and beyond with her family.
Jeff Ackermann advises governmental energy officials and advocates on clean energy policy, currently through his position as a senior policy advisor with The Center for the New Energy Economy. His 30+ years of state government and energy sector experience includes four years as chairman of the Colorado Public Utilities Commission from 2017-2021. Prior to his tenure as PUC chair, he served as executive director of the Colorado Energy Office for four years, starting in 2013. Jeff has a particular focus on improving the utility regulatory process, having engaged in it from numerous perspectives: as an advocate for income-constrained households; as the lead utility staff member developing a "green pricing" program and as the demand-side management advisor and later chief policy researcher for the Colorado public utilities commissioners. He is also a Senior Fellow with Gridworks, where he facilitates difficult discussions and fosters collaborations promoting decarbonization. Jeff earned a Master of Nonprofit Management degree from Regis University and a BA in Environmental Economic Policy from Albion College.
Naomi Amaha is an award-winning public affairs leader with a reputation for excellence in public policy and government relations. With more than a decade of experience in advocacy, nonprofit leadership and civic engagement, she advances systemic change. She currently serves as the inaugural Director of Policy and Government Affairs for The Denver Foundation, the largest and most experienced community foundation in the Rocky Mountain West. Naomi holds a Bachelor of Arts in Sociology and Communication from the University of California Davis, is a Certified Nonprofit Professional and has earned a certification in Corporate Social Responsibility. She currently serves as co-chair of the City and County of Denver's Sustainable Transportation standing committee of the Sustainability Advisory Council and member of the Policy and Legislative Advisory Network of the Rocky Mountain Partnership.
Doug Arent has over 30 years of experience in clean energy, sustainable development and related technologies and management. He is an internationally recognized expert in clean energy and sustainability, technology, policy and strategy. Doug is the Deputy Associate Lab Director, Scientific Computing and Energy Analysis (SCEA) at the National Renewable Energy Laboratory. For more than 20 years, he has led global teams that deliver leading-edge, objective, high-impact research and analysis to guide global energy investment and policy decisions at the intersections of the environmental, social, financial, technological and political elements of energy systems. Doug also directs the 21st Century Power Partnership, an initiative of the Clean Energy Ministerial that supports power sector policy and regulatory best practices and deep technical assessments. He is the Editor in Chief for Renewable Energy Focus and is Associate Editor for the journal Renewable and Sustainable Energy Reviews. Doug has a PhD from Princeton University, an MBA from Regis University and a bachelor of science degree from Harvey Mudd College.
Melissa Baldridge co-founded GreenSpot Global in 2010 to develop and create value in regenerative real estate by spinning energy, carbon, water and waste meters backwards. Since then, she's helped hundreds of clients with sustainability and financial analysis, development, land acquisition and finished product sales worth over $340 million. She's also modeled over 1 million square feet of property, helped clients place 236 MWs of solar power, and save hundreds of carbon tonnes and over 200 MWhs of electricity annually. Melissa is nationally recognized for excellence and innovation by the National Green Building Standard, and GreenSpot was named a "Top Green Dealmaker" by the U.S. Green Building Council. She is also in candidacy for a master's degree in sustainability with a focus on corporate innovation (Harvard University, 2020). Her areas of interest include regenerative building and activities, economic and financial analysis, energy and greenhouse gas metrics, green finance and circular economics. In Melissa's spare time she plays drums and percussion (jazz, funk, house, Brazilian and Cuban).
Jenise Bermudez (she/her/hers) has more than 13 years of retail banking experience combined with a long-standing zeal for environmental conservation, sustainability, and mission driven finance and banking. Currently, Jenise is First Vice President, Commercial Banking for the Western Region at Amalgamated Bank. Throughout her nine-year tenure at Amalgamated that includes the merger with New Resource Bank in 2018, Jenise has served in multiple roles of ascending responsibility and has provided leadership to the Bank as Co-Chair of the Green Team and member of the Racial Justice Task Force. Prior to her time at Amalgamated, Jenise has spent 5 years in banking at United Labor Bank, First Republic Bank, Citibank and Wells Fargo. In the words of the Global Alliance for Banking on Values, Jenise believes that only by changing finance, are we able to finance change. Jenise received a Certificate of Completion in the Advanced Program in Sustainable Management from UC Berkeley Extension and holds an Associate of Arts degree from Santa Rosa Junior College.
Catherine Greener's experience includes Vice President of Environmental Affairs and Sustainability for Xanterra Travel Collection, VP of sustainability consulting at Saatchi & Saatchi S, team leader commercial and industrial team at Rocky Mountain Institute and Director of Quality and Customer Focus for ABB Flexible Automation. She is regularly invited to speak on various sustainability topics including strategy, employee engagement and integrating sustainability into marketing messages. Catherine has significant experience in the implementation of sustainability, lean manufacturing and industrial quality management systems. She has led sustainability and resource efficiency projects for companies and clients, from entrepreneurial start-ups to the industrial facilities of multinational corporations and Fortune 500 companies. She combines her sustainability, quality management and lean manufacturing experience with acute problem solving skills and an exceptional ability to uncover process waste. Catherine has given numerous talks, facilitated visioning sessions and conducted training classes in sustainability, continuous quality improvement and other disciplines, developed waste reduction programs and led problem-solving groups for manufacturing strategy.
Lynn's primary career has been in the field of education as a university and high school administrator, teacher, and most recently, Director of Community Outreach for an education nonprofit. She is also an environmental activist, working closely on the issues of preservation with Rainforest Action Network and fracking with Food and Water Watch and other local organizations. As a former professional dancer, she serves on the board of two Boulder-based dance companies. She is the mom of two grown sons with whom she shares a passion for the ocean and surfing in particular. Lynn has extensive experience articulating and promoting the mission and vision of educational organizations and nonprofits. She is recognized leader in development, marketing and program management.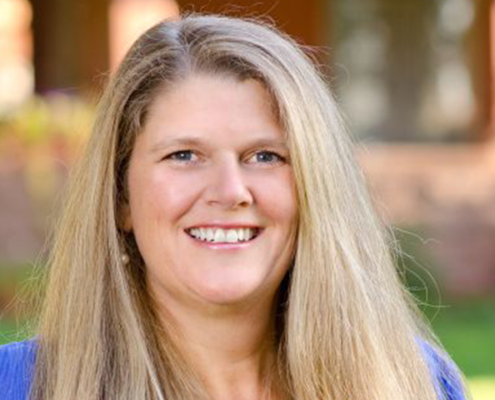 K.J. McCorry is the founder of Eco-officiency, which offers sustainability consulting services to small and medium businesses. She specializes in sustainability planning, assessments and employee training. She is a contributing author to Simple Path to Sustainability; Green Business Strategies for Small and Medium Sized Businesses released in 2011. She currently serves on the Eco-Cycle and Greenwood Wildlife Rehabilitation Center boards. She also serves on the University of Colorado Denver Managing for Sustainability Council and an adjunct faculty member for the University of Colorado Boulder Masters of the Environment program. K.J. has served on multiple nonprofit boards committed to social and environmental responsibility including International Society of Sustainability Professionals (ISSP), Connected Organizations for a Responsible Economy (CORE), Businesses for Social Responsibility- Colorado Chapter; Past President and founding member of Colorado P3: People, Planet Profit. K.J. is an MBA graduate of the University of Denver, and she received her undergraduate degree from Metropolitan State University. She has certifications in LEED, GHG Accounting and the Global Reporting Initiative. She is also is a LEAD Fellow, an international sustainability leadership program.
Betsy Moszeter is the COO of Green Alpha Advisors, ensuring the firm successfully serves an expanding client base at the highest levels. This means she wears a lot of hats, including that of an active Investment Committee member. Prior to Green Alpha, she was a Managing Member and the SVP of First Affirmative Financial Network. Included in her responsibilities was speaking at conferences and working with many organizations to promote the sustainable, responsible, impact (SRI) investing industry and The SRI Conference. Betsy was the COO and CCO of TAMRO Capital Partners, in Alexandria, VA from 2004 to 2013, growing the business to $2 billion in client assets before relocating to Colorado because of her love of hiking and need for nature. She has served on the Alumni Board of Directors for the Darden School of Business since 2012.
Jill is an attorney and social justice activist. She received a bachelor's and a law degree from Stanford University. As a lawyer for the San Francisco Neighborhood Legal Assistance Foundation, she focused on organizing and litigating on behalf of public housing tenants citywide. As Executive Director of the Boston and Washington DC-based National Jobs with Peace Campaign, she was a leader of a multi-racial, multi-class, grassroots organizing group with chapters around the country. Jobs with Peace brought together diverse local and national coalitions which coordinated campaigns to cut military spending by 25% and redirect tax dollars to human needs and the environment. Jill currently oversees a portfolio of real estate holdings and other businesses and supports multiple organizations working for social change, including independent media and political campaigns.
Jacques-Philippe Piverger
Jacques-Philippe Piverger is an experienced entrepreneur and investor. Prior to founding GoodLight Capital, he was co-founder and managing partner at OzoneX Ventures. Before OzoneX, he was a director at PineBridge Investments and AIG Investments, where he participated in directing over $10 billion of venture capital, private equity, hedge fund and real estate transactions globally. Jacques-Philippe was also the co-founder and former Chief Executive Officer of MPOWERD, a solar product company with global distribution in more than 70 countries. He holds a Bachelor's degree from Georgetown University and an MBA from Dartmouth's Tuck School of Business. He is a board member of the New York City Economic Development Corporation's Build NYC and Industrial Development Agency. He is co-founder and former board member of The Council of Urban Professionals and a Young Global Leader of the World Economic Forum. He was a Term Member at The Council on Foreign Relations and an advisory board member of George Clooney's Hope for Haiti Now Fund.
Founder of Alliance for Sustainable Colorado in 2004 and full-time volunteer, John has been on the board since inception. He is a board member of Conservation Colorado and the Educational Foundation of America. From 2006 to 2012 John was a member of the Greenprint Council, a citizens' advisory committee to the Mayor of Denver's Sustainable Development Initiative.
A nationally recognized authority, consultant and resource to the Sustainable, Responsible, Impact investment industry, Steve is a veteran financial services professional. For nearly 30 years, he has focused on helping direct the flow of investment capital in positively impactful and intentionally transformative ways — toward the creation of a truly sustainable future. Steve worked for Calvert Investments for eight years in the 1990s, including four years as President of Calvert Distributors, and served for eleven years as Chair of the Board of US SIF: The Forum for Sustainable and Responsible Investing. Steve was Principal, President, and Chief Marketing Officer for First Affirmative Financial Network from 1999 through 2017 and served as Executive Producer of The SRI Conference (on Sustainable, Responsible, Impact Investing), the premier gathering of the sustainable and responsible investment industry in North America for nearly 20 years.
Praful Shah is an angel investor focused on social impact who has invested in 75 start-up companies, mostly in Colorado. He has been a mentor, an advisor or on the Board of several organizations. His passion is to alleviate poverty of all kinds (especially ignorance) and provide richness to lives. He spent over thirty years as a scientist and an executive in the Research and Development departments of pharmaceutical and biotechnology companies. His educational background includes a Bachelor of Science in Chemistry, an MBA (Finance) and Ph.D. in Pharmaceutics. He lives near Boulder, Colorado with his wife Karen.
Renise serves as the Assistant Director of Systems Innovation for the Colorado Workforce Development Council. Serving as an active leader for the CWDC, Renise represents the CWDC at state and national conferences and continues to innovate and be a thought leader in the talent development landscape. She is responsible for critical relationship development with external partners and provides management and alignment of CWDC's efforts to lead and support industry-led networks, develop and strengthen career pathway systems and implement stimulus-funded initiatives in support of Colorado's economic recovery. Prior to joining the CWDC in 2015, Renise led the backbone efforts of a collective impact initiative working to advance affordable housing, workforce development and economic mobility for underserved populations in the nation's capital. Walker believes strongly that enacting large-scale social challenges requires a willingness to innovate, break down silos and collaborate across traditional boundaries. She holds a bachelor's degree from Colorado College and a master's in public administration from the University of Colorado Denver School of Public Affairs. As a proud third-generation Coloradan, Renise cares deeply about the future of Colorado and creating and sustaining opportunities for Colorado residents.